Chick Fil A Lemonade is sweet, tart, and deliciously refreshing. There's no need to go to the restaurant when you can make a homemade version of this drink at home and save money too.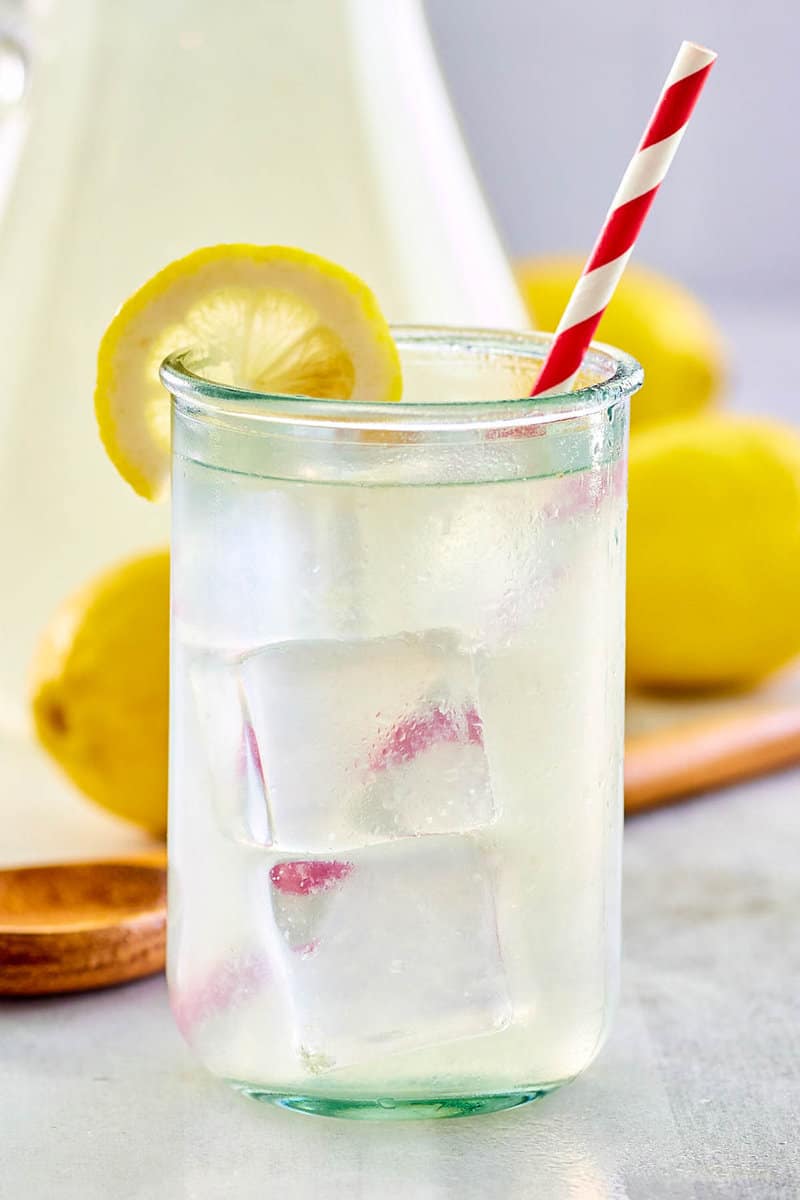 This post contains affiliate links. As an Amazon Associate, I earn from qualifying purchases.
Homemade Lemonade
Summer means being outside and doing what you love. The way you choose to spend the long, hot days is up to you, but when it comes to cooling off on a hot summer day, there is one tried-and-true method: a tall, iced cold glass of homemade lemonade.
You'll never want to buy overpriced bottles, cartons, or mixes again when you discover how easy and delicious it is to make real lemonade yourself!
Best of all, you can enjoy the flavor of Chick-fil-A lemonade with the perfect balance of sweetness for your preference – just add or reduce the amount of sugar when you make the drink.
Why This Is the Chick Fil a Lemonade You Should Try To Make 
This copycat Chick Fil A Lemonade recipe is just about as traditional as it can get. There's no lemon concentrate or artificial sweeteners here. It's just fresh real lemon juice, pure water, a little salt, and all-natural cane sugar!
Chick Fil A Lemonade Ingredients 
To make this Chick Fil A Lemonade recipe, you'll need a few simple ingredients:
Water
Sugar
Salt
Lemon juice
Ingredient Notes
Use the best water you can for this recipe. That means filtered or bottled water instead of tap water. It will make a huge difference in the flavor.
Lemonade contains a lot of sugar. You can make Chick Fil A diet lemonade with Monk fruit-based sweetener, an excellent natural alternative for those trying to cut back on sugar. Just remember that monk fruit is much sweeter than sugar, and you won't need as much. Check the package to determine the necessary amount. 
Don't be put off by the salt in this recipe. Adding salt helps to heighten sweetness without increasing the amount of sugar. It also enhances the lemon flavor.
Freshly squeezed lemon juice is the best, so buy whole lemons and juice them. Using a lemon squeezer is the easiest way (unless you have a juice press or electric juicer). However, if you can't squeeze your own lemon juice, try buying lemon juice that is not from concentrate.
How To Make Chick Fil A Lemonade
To prepare this Chick Fil A Lemonade recipe:
Make a weak simple syrup by stirring together the water, sugar, and salt in a saucepan.
Bring the mixture to a boil for two minutes.
Turn off the heat and allow the weak simple syrup to reach room temperature.
Stir the lemon juice into the weak simple syrup.
Transfer the lemonade to a large pitcher with a lid and put it in the fridge to chill.
How To Serve Chick Fil a Lemonade
Fill a tall glass a third of the way with ice. Pour in the lemonade. Add a straw and garnish with a lemon wheel if you want to be a little fancy.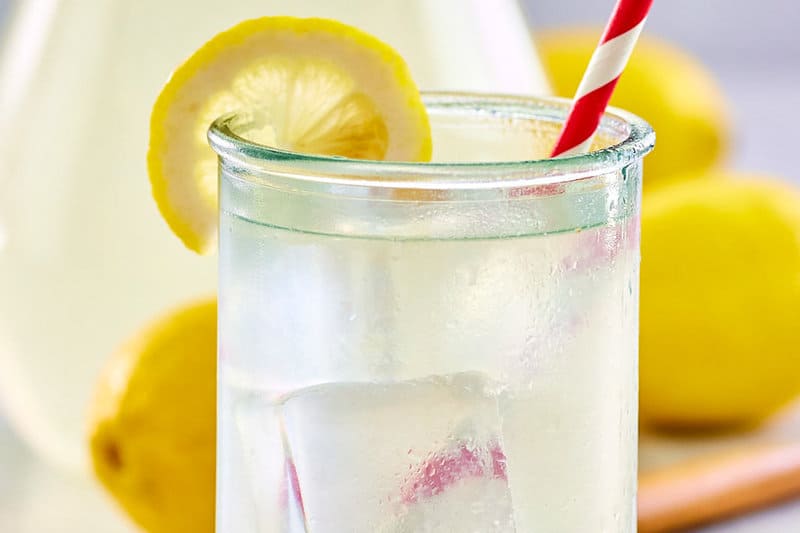 What To Serve With Chick Fil a Lemonade 
Lemonade is excellent on its own, and it is a wonderful all-natural substitute for any occasion when you may ordinarily have a soft drink.
How To Store Chick Fil a Lemonade 
Keep copycat Chick Fil A Lemonade in the fridge for up to three days in a covered pitcher. Don't add ice to the pitcher. It will water it down and dilute the taste.
A convenient way to store lemonade for up to three months is by pouring it into an ice cube tray and freezing it. Transform the frozen lemonade ice cubes into a bag and keep it in the freezer. Thaw as needed.
Do you want to make sure you have an ice-cold beverage for lunch? Fill a soda bottle halfway with lemonade and freeze. Set it on the counter and when it is time to eat, the lemonade will be thawed but still cold.
Frequently Asked Questions
Is Chick Fil a Lemonade Fresh Squeezed?
Nope. It may be disappointing to hear, but according to someone working at Chick Fil A, each location doesn't squeeze the hundreds of lemons necessary to make all the lemonade it serves.
How To Keep Pulp Out of Your Lemonade
Pulp adds a lot of extra tartness, but if you want your lemonade to be pulp-free and have a smooth texture, strain with a fine mesh sieve while pouring.
Love Chick-Fil-A? Try These Copycat Recipes!
Popular Fast Food Drinks
Check out more of my easy drink recipes and the best copycat Chick Fil A recipes on CopyKat!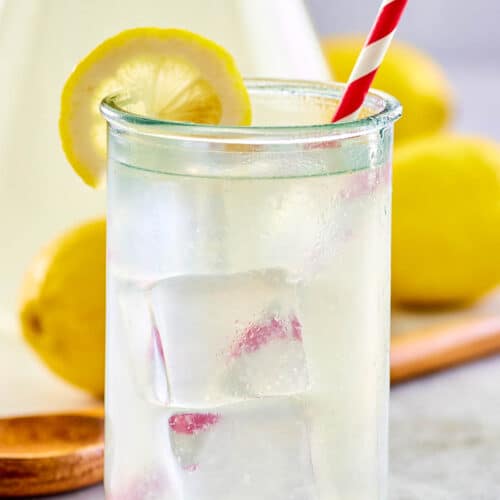 Print
Add to Collection Go to Collections
Chick Fil A Lemonade
You can make Chick-fil-A lemonade at home with this easy copycat recipe
Course DrinksCuisine AmericanKeyword Chick Fil A Lemonade, Chick Fil A Recipes, Homemade Lemonade
Prep Time 5 minutesCook Time 5 minutesTotal Time 10 minutes
Servings 8
Calories 200kcal
Author Stephanie Manley
Ingredients
8 cups water
2 cups sugar
1/2 teaspoon salt
½ cup lemon juice + 2 tablespoons lemon juice
Instructions
In a small saucepan, combine water, sugar, and salt.
Bring the mixture to a boil and boil it for 2 minutes.
Remove the pan from the heat and allow the simple syrup to cool to room temperature.
Add lemon juice and mix well.
Pour over ice.
Garnish with lemon slices if desired.
NutritionCalories: 200kcal | Carbohydrates: 52g | Protein: 0.1g | Fat: 0.2g | Saturated Fat: 0.01g | Polyunsaturated Fat: 0.01g | Monounsaturated Fat: 0.003g | Sodium: 158mg | Potassium: 36mg | Fiber: 0.1g | Sugar: 51g | Vitamin A: 2IU | Vitamin C: 13mg | Calcium: 10mg | Iron: 0.1mg
The post Chick Fil A Lemonade appeared first on CopyKat Recipes.
Powered by the Echo RSS Plugin by CodeRevolution.